Parlays.org - Covering The Top Online Sportsbooks With The Best Parlay Bets
Our goal here at Parlays.org is to provide sports bettors with the best online sportsbook options for combining wagers, increasing the odds, and securing a massive pile of cash when it pays out. Our guide not only helps bettors locate these web-based sportsbooks, but we also delve into parlay calculators and how the combined odds work, which sports betting sites offer the highest parlay odds, and how these combo wagers can apply to different sports.
Top Rated Sportsbook Offering The Best Parlay Odds In 2023
Highest Parlays Payouts - Odds Up To 2349/1 On Your Parlay Or $100 To Win $234,900
Most Reputable Sportsbook For USA Players
50% Match Bonus Up To $250 On Your First Deposit ($750 With Bitcoin!)
Bet Casino And Poker From Your Sports Betting Account
Best Credit Card Approval Rate Amongst Sportsbooks
Accepts Crypto-Currencies including Bitcoin, Litecoin and Bitcoin-Cash.
Top Sportsbooks Offering
The Best Parlay Odds And Payouts In 2022
What Is A Parlay Bet And How To Get The Best Odds
When you bet parlays online, the allure is this - you can hit a 500 foot home run with a toothpick. Sportsbooks love it when you make a parlay bet because parlay payouts are a rare occurrence. The beauty of parlay sports betting, it's easy money for the house, and not much risk for the bettor, while also supplying huge payouts when they do win.
Parlay Definition: Put quite simply, a parlay bet is a combination of two or more wagers. These combinations can include point spreads, money line bets, or prop bets, and can involve multiple sports, or more than one wager contained within the same game. Each sportsbook will differ in what they will allow for inclusion into a parlay bet.
If any portion of the wager loses, then you'll lose the entire parlay. Meaning, all elements of the parlay must win to win the bet.
Because more than one event needs to occur, the odds increase, thus heightening the cash winnings. The parlay odds and pay outs continue to elevate as more events are added to the combination wager, and there's no need for a parlay calculator - the online sportsbook will provide it for you.
Throughout our website, you will find special sections on parlay odds and payouts, parlay rules, round-robin parlays, and wagers concerning specific sports like basketball, baseball, football, and hockey.
Whether wagering against the point spread, on the money line, or against the over/under, when you spot multiple betting situations that seem attractive, you should consider making a multi-team parlay bet at the house minimum - again, low risk for high reward.
Remember that your odds are generally well defined when you place a point spread and/or totals parlay bet. Refer to our section on parlay payouts and odds for an in-depth explanation.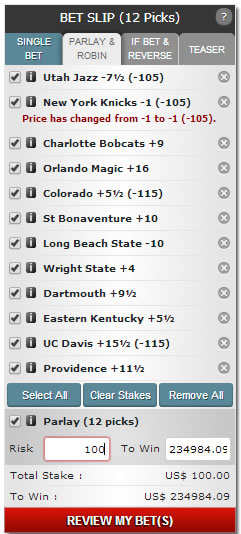 Parlay Example
To give you a clear example on how much you can win on a single parlay, here is a screenshot of a 12 team parlay at Bovada sportsbook.
You can see, the parlay odds calculator says that a $100 bet pays out at $234,984.09. How would you like to sweat that payout going into the late game on Sunday Night NFL? As always we really try to hammer home that parlays are a long shot, especially a 12 teamer. But, they are a lot of fun and can offer extremely large payouts if you hit one.
Taking a $10 shot if you have a small bankroll every week isn't really going to make or break you, and the online sportsbooks are always willing to accept action on such long odds.
Of course, these options aren't limited to NFL parlay picks. Parlays can be created across multiple leagues using any combination of player propositions, money lines, point spreads, or any other betting odds.
The only limit to what can be combined into a member's parlay picks will be defined by each individual online sportsbook.
Parlay Odds & Strategies
As mentioned ad nauseam, parlay odds only increase as more outcomes are added, so hedging a combination bet is an unreasonable proposition.
What bettors can consider is that no matter what odds are combined, they will continue to increase, so opt for moderately favored money lines that hover around -300 or better. As you can see by the below NBA parlay bet, even laying some action on three favored teams will still double your money.